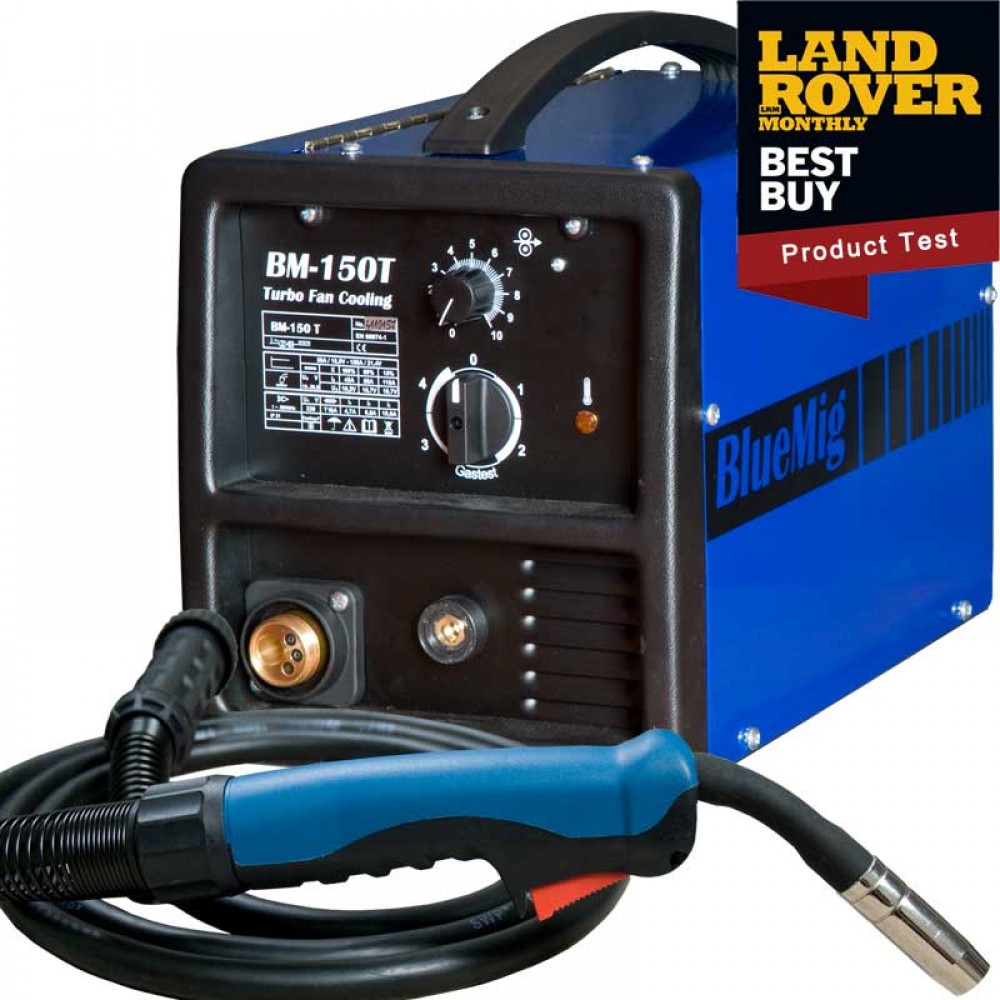 BlueMig 150T Gas/No Gas Mig Welder
Section Text

With it's Industrial Euro Torch, the BlueMig 150T Turbo Mig Welder ia a proven allrounder and superb value for money. Easy to use, even on thin metal, thanks to this Mig Welders low power performance.
Product Test "BEST BUY" - Land Rover Monthly
UK Mainland Delivery Only
BlueMig BM-150T is an excellent choice for the discerning Home user and Trade user alike. Powerful and portable with a professional Euro fitting Type 15 Torch and Professional Wire Drive System for long term, reliable wire feeding.
BlueMig BM-150T can be used with either 0.6mm Welding Wire or 0.8mm Welding Wire.
Accepts the Great Value 5.0Kg Midi Spools (over 7 x more wire than Mini Spools).
Use 0.6mm for welding Steel from around 0.7mm to 2.5mm Thick and 0.8mm for welding steel from around 1.5mm to 6mm thick.
Set up is easy, thanks to the Welding Chart provided.
Product Test "BEST BUY" in Land Rover Monthy. The test report commented:
"a bombproof wire feed set up, plus incredibly stable electronics, allows a superbly smooth welding experience, whether tackling thin or thick metal. The quality, detachable Euro Torch's length gives massive positional freedom too........"
NOTE: Since the Product Test the BlueMig 150T has been upgraded to allow Self Shielding (Gasless), wire to be used.
Key Benefits that give you Great Results & Versatility:
> 30 - 150amps of Welding Power = Welds 0.8mm to 5mm Steel (Great for Car Body Work)
> Turbo Fan Cooling keeps you welding for longer without overheating
> Powerful 20W Industrial Wire Drive Motor and Feed Mechanism = Long Life, Reliable Wire Feeding
> Torch with Type 15 professional Torch Parts = Robust, Efficient and Comfortable to use
> Accepts 5Kg Midi Spools of wire for maximum economy
> Accepts 0.6mm & 0.8mm Wire for great flexibility
> Accepts Solid (with Gas), or Self Shielding (Gasless) Welding Wires
> Can be used with Disposable Gas Cylinders (optional kit available), or Refillable Cylinders (optional Pro Regulator available)
> Type 15 Mig Torch = Good spares availability
> Designed & Manufactured in Europe = Good spares availability
Click on the "Specs" Tab above for Technical Specifications
This Mig Welder comes to you supplied with:
> 3M Long Type 15 Ergonomic Mig Torch
> Removable Earth Clamp Lead Assembly
> Gas input Hose
> Welding Chart for easy setting
> 12 Month Machine Warranty
Sorry but we can only deliver this Mig Welder to UK Mainland addresses (England, Scotland, Wales)
Want to know a little more about Mig Welding before making a purchase? Try
Graham's blog - Mig Welding