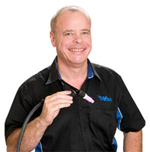 BSP Threads are used for most Oxygen, Acetylene and Propane equipment.
Fuel Gases, Acetylene, Propane, Polypropylene etc will have Left Hand Threads because this stops Fuel Gas and Non Fuel Gas equipment from being mixed up, which is potentially VERY dangerous.
Left Hand Threads will have small cuts machined into the Nut to indicate they are Left hand.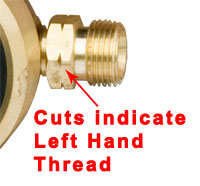 Non Fuel Gases Oxygen, Argon, Argon/Co2 Mix etc, will have Right Hand Threads and so no cut on the Nut.
BSP Thread Sizes
The size of BSP Threads causes a lot of confusion because, for example, a 3/8″BSP Thread is over 1/2″ in diameter!
BSP stands for "British Standard Pipe" and is a very old thread.
In the example of 3/8″BSP, 3/8″ is the diameter of the BORE of the pipe NOT the outside diameter of the thread.
If the BORE of the pipe is 3/8″ diameter, clearly the outside diameter of the pipe has to be greater and it's this outside pipe diameter that a thread would be cut into. So the Thread diameter has to be greater than the 3/8″ BORE diameter of the pipe!
BSP Thread Diameters
Gas equipment typically uses 4 different BSP Threads, the following is the basic specifications of these threads.
Size

Outside Dia

meter

Pitch

1/8″
0.383″ (9.73mm)
28 TPI
1/4″
0.518″ (13.16mm)
19 TPI
3/8″
0.656″ (16.66mm)
19 TPI
5/8″
0.902″ (22.91mm)
14 TPI
BSP Thread Uses in Gas Equipment
1/8″BSP is commonly used for the outlet thread on small Regulators, the type used for throwaway cylinders for example.
1/4″BSP is typically used on the Torch end of Oxygen, Acetylene & Propane Hoses where small torches, including Lightweight and Model 'O', are used.
3/8″BSP is typically used for Regulator Outlets, Flash Arrestor Inlet + Outlet and the Torch end of Hoses where larger Torches, including Heavy Duty and Cutting Torches, are used.
5/8″BSP is typically used for Gas Cylinder Outlet and therefore Regulator Inlet.
I hope you found this article useful.
Visit our Gas Welding Tools & Fittings page.
Please let me know what you thought of this article by leaving a comment.
Don't worry, your email address won't be added to a database or shared and you won't receive any unsolicited email.
Regards
Graham