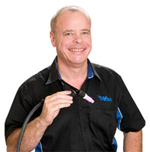 You've decided you want to buy a Mig Welder, but discovered there's a bewildering choice out there. So how do you go about choosing a Mig Welder?
As not everyone is not a reader, I've also produced a video on this subject:
First things First
It may sound a bit obvious, but the first thing you should consider when choosing a Mig Welder is what you want to be able to do with it!
There's little point in buying a 150amp Mig Welder because it runs off a 13amp plug if you want to weld 10mm thick sheet steel – it's simply not powerful enough.
Conversely, there's little point in spending big money on a 300 amp machine if you only want to repair stuff at home and/or restore a classic vehicle.

So power output and you own power supply are important considerations.
Broadly speaking, you can run a Transformer machine up to around 130 or 150amps (depending on machine), off a 13amp plug.
Inverter machines can be run at around 160amps off a 13amp supply. This is because an Inverter is more electrically efficient than a traditional transformer.
Having said all that, if you want to weld car body panel thickness material, the top end power is far less important than the bottom.
To weld car body panels you need a Mig Welder with a minimum output of no more than 30amps. A higher minimum output will result in lots of hole blowing in thin sheet!
So consider BOTH ends of the power range, not just the top!
The Basics of a Mig Welder
A Mig Welder can be broken down into two basic parts, a Power Supply and a Wire Drive System (inc Torch).
The Power Supply will either be a Transformer or Inverter (more about these later).
In my opinion, the more important consideration is the Wire Drive System, including the Torch.
I say this because after around 30 Years in welding, wire drive problems make up about 80% of the problems I've seen with Mig Welders. From DIY units to big Industrial units.
Duty Cycle
Another consideration regarding the power output of a Mig Welder is Duty Cycle. This is essentially how long the machine will run for before it overheats. If you want to do long welds at high power, a small DIY Mig is unlikely to be the right choice for you. But if it's mostly small jobs, you shouldn't have a problem.
I've written a separate blog article about Duty Cycle if you would like to know more. Ive also produced a video if you prefer to watch than read:
What to look for in a Mig Welders Wire Drive System
For me, when choosing a Mig Welder a decent sized Wire Drive Motor is very important. Many units, especially in the DIY market, have small, cotton reel sized motors that are only just powerful enough, assuming everything else is perfect.
Yeah, like everything's always perfect, especially after a few Years use!!!
Next is the robustness of the Wire Feed Roller System. This is hard to qualify, but most practical people will know a good Roller System from a cheap crappy one when they look at it.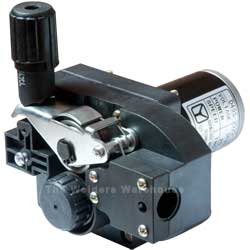 Mig Welder Torch
Lastly is the torch itself. A Steel Torch Liner is, in my opinion, VERY important. Many low cost machines have a plastic liner to cut cost. But this doesn't last long when you're feeding steel wire through it and changing the liner is usually a time consuming, fiddly job.
A plastic liner is also likely to be the No1 culprit of feed problems, and soon!!! So a torch with a steel liner is definitely worth looking out for!
A Steel Torch Liner looks like bicycle brake cable, a spiral of steel coated with plastic.
A really good thing to look out for is a Euro Torch. This Torch system has a Socket on the front of the Mig Welder and a Plug on the Torch.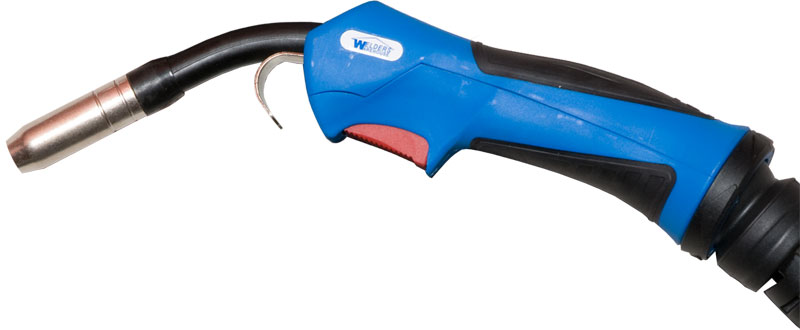 The Torch simply screws onto the Socket with a Hand Nut.
Euro Torches are better quality, yet are nearly always cheaper than the permanently fitted type (should you ever need to replace the torch). This is because Euro Torches are standard on Industrial machines and so are made by the Millions.
Permanent fit torches are usually bespoke and so have to be bought from the machine manufacturer. This can mean BIG money!!
I would expect all Euro Torches to be fitted with a Steel Liner, ours certainly are!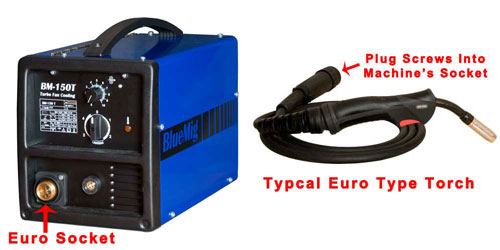 Types of Mig Welder
There are two basic types of Mig Welder, which is mostly about the type of Power Unit inside the machine. When Choosing a Mig Welder, this is a pretty fundamental choice!
Transformer Mig Welders
Transformers are the traditional power unit for a Mig Welder. The advantages of a Transformer based unit are that they are usually cheaper and less complex, so theoretically more reliable long term.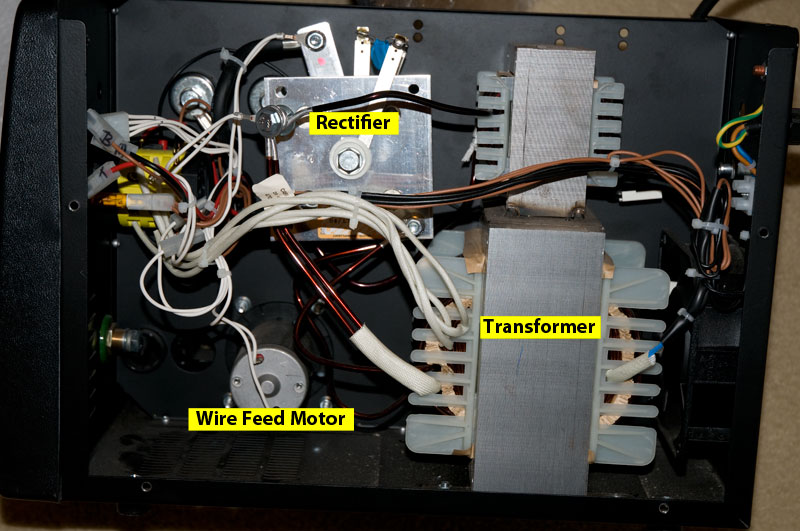 The downsides of Transformers are that they are Heavy, Overheat more quickly and the power output is usually set in a range of steps. Transformer Mig Machines typically have between 2 and 30 steps. It is not possible to set a power output in-between these steps.
Inverter Mig Welders
Modern inverters are also far more reliable than units of only a few Years ago. Another advantage is that power output is steplessly adjusted, in other words, power can be adjusted in the same way you would adjust the volume of a radio, simply by rotating a knob.
Inverters are a modern, electronic unit for a Mig Welder. The advantages of an Inverter based unit is that they are lighter, so easier to move around and will run for much longer before overheating.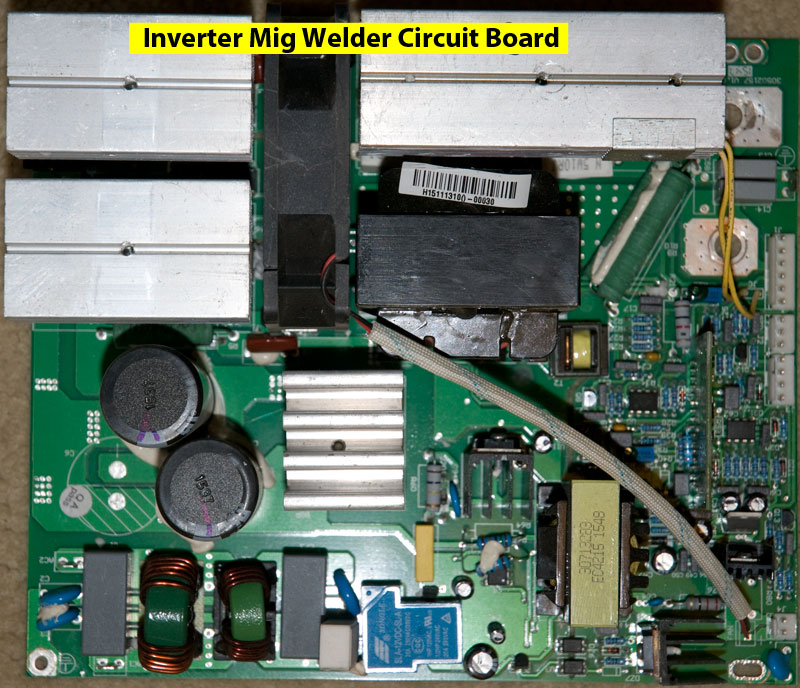 The only real, possible, downside with inverters is the complexity of an electronic board, which if it fails outside of warranty will need to be replaced. Replacement Inverter boards are not cheap as they typically represent over half the Mig Welders internal parts.
Conclusion
Which type of Mig Welder is right for you is a personal decision, because, as we've said, it all depends what you want to be able to achieve.
Visit our Mig Welders Page to view our current range.
Need to Know More?
If you need help and advice with choosing a Mig Welder, please don't hesitate to get in touch. Either via the Contact Us page of our website, or by picking up the phone for an informal chat, ask for me!
I hope you found this article useful.
Please let me know what you thought of this article by leaving a comment.
Don't worry, your email address won't be added to a database or shared and you won't receive any unsolicited email.
Regards
Graham