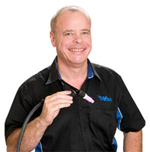 Mig Welders are relatively simple pieces of equipment and are easy to use, the key is getting the machine set up correctly in the first place. Key to this is the setting the wire feed speed correctly.
A lot of smaller machines on the market, BlueMig BM-150T for example, have a helpful Chart, indicating the settings most likely to suit a given thickness of metal with a given size of wire.
Example of Welding Chart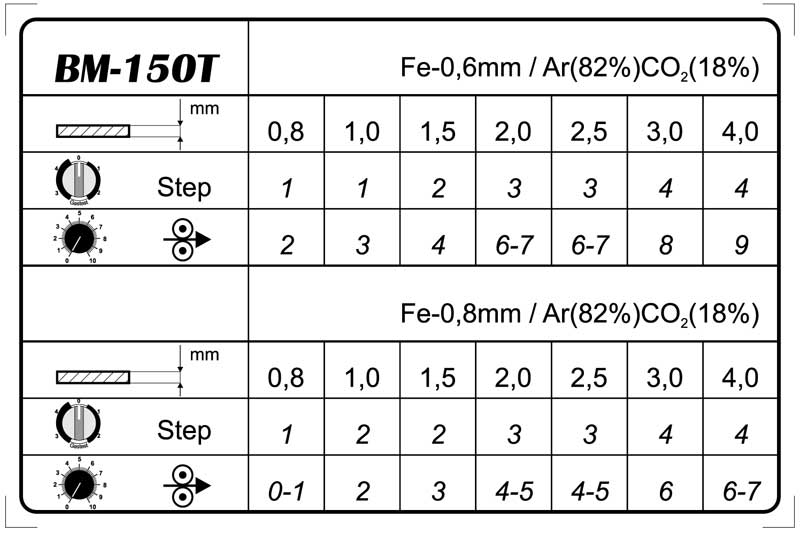 3 Steps to Perfect Wire Feed Speed
Set the wire feed speed to a level that you know will be too high for the power output setting you're using (this may be a best guess).
Start an arc on a scrap piece of metal. With too much Wire the arc will "Stutter" and you will feel your torch bucking in your hand as the wire repeatedly hits the metal. If it doesn't, increase the wire feed speed, whilst welding, until it does!
Whilst maintaining this Stuttering Arc, SLOWLY reduce the wire feed speed. The Arc will suddenly run smoothly with an even "Crackle" and the torch will stop bucking in your hand.
CONGRATULATIONS, you now have the correct wire feed speed for the Power Output you've set on the machine and the size of wire you're using.
Once you've got the setting right, it's worth making a note of the setting for that wire and power output for future reference. Essentially, you start writing your own chart!!!
Conclusion
Getting the correct Wire Feed Speed on a Mig Welder is critical to getting a good quality weld.
Too much wire feed will generate a lot of spatter and a lack of penetration, not to mention a weld that looks like a line of Pigeon dropping 🙂
Too little wire feed will generate a weak flat weld, possibly with undercut.
Please let me know what you thought of this article by leaving a comment. Don't worry, your email address won't be added to a database or shared and you won't receive any unsolicited email.
Cheers
Graham