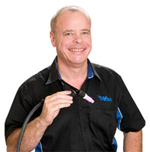 Oxy Acetylene Kits are one of the oldest types of equipment for welding, but they can do so much more!
But before we talk about that!
What's important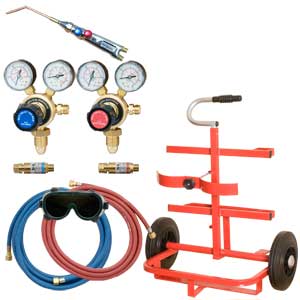 Safety – Oxygen and Acetylene Kits can be dangerous as both gases dangerous. So it's critically important that good quality equipment is used, kept in good condition, and inspected/tested at least once a Year.
Choose the right Kit for your application. If you buy a kit with a Lightweight Torch when you want to do heavy stuff, you're going to be disappointed. Similarly, if you buy a kit with a Heavy Duty Torch and your application is small and requires a lot of torch manipulation, you're going to find a Heavy Duty Torch cumbersome. So think about your work and consider the pros & cons. You might find this video useful.
If you're making up, or refurbishing your own kit from purchased parts, ensure you have Flash Arrestors (a legal requirement in the UK). Also ensure your hoses have Check Valves on the Torch end.
When assembling an Oxy Acetylene Kit NEVER use thread sealing products. Also, DO NOT over tighten fittings, seals are made either by an 'O' Ring or a Brass on Brass seal which can be damaged by over tightening.
Ensure your Kit is assembled correctly.
Ensure you operate your Oxy Acetylene Kit correctly, especially regarding Regulator operation and pressures along with lighting and shutting down the Torch.
View our range of Oxy Acetylene Kits
Uses for Oxy Acetylene Kits
As I indicated at the top, Oxy Acetylene Kits are extremely versatile and have many uses, in my opinion, it's the most versatile of the Welding processes.
Oxy Acetylene Welding

Oxygen + Acetylene is the only readily available gas combination that can be realistically used for fusion welding and is the main reason engineers buy an Oxy Acetylene Kit.
View our Range of Oxy Acetylene Welding Torches
Brazing/Silver Soldering
With a good quality Torch, Oxygen + Acetylene produces a very precise, hot flame which can be applied very accurately, making it ideal for Braze and Silver Solder applications.
Oxy Acetylene Cutting

A high temperature flame offers fast heating to cutting temperature.
View our 18/90 Oxy Acetylene Cutting Gun
Heating

Using a Nozzle with multiple jets results in fast, accurate heating, whatever the application.
Conclusion
With all this versatility it's no wonder an Oxy Acetylene Kit can be found in almost every professional workshop, whatever the trade.
Need to Know More?
If you would like to know more, or would like to discuss what equipment might best suit your needs, please don't hesitate to get in touch, you can write via our Contact Us page, or phone and ask for me! (numbers at the top of this page)
I hope you found this useful, if things work out well for you, please feel free to post some pictures of your achievements on our Facebook Page
Please let me know what you thought of this article by leaving a comment. Don't worry, your email address won't be added to a database or shared and you won't receive any unsolicited email.
Cheers
Graham