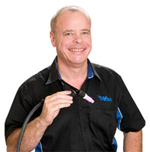 Mig Welding is not a difficult process to master, but unless you get the basics right, it can be torturously frustrating! These 10 Tips to improve your Mig Welding help.
Ensure your Mig Welder is in good working order; by that I mean making sure the Torch and Work Return (Earth), lead connections are clean and good. Make sure the Torch end parts are in good condition. Also check the Work Return (Earth) clamp is in good clean condition.
Check your Welding Wire is in good condition, if it's rusty or dirty you should pull off the imperfect wire and discard it, because poor quality wire will lead to poor quality welds!
Check your Welding Wire Spool turns easily on the Spool Holder. It should have a little friction so it doesn't overrun when the motor stops pulling the wire, but it shouldn't be stiff to turn. Some spool Holders are adjustable, some are not. All can get dirty and cause jamming, so make sure the Holder is clean so the Spool turns smoothly.
Check you Wire Feed Rollers are clean and in good condition, because Rollers in poor condition will lead to erratic wire feeding and therefore poor quality welds. The Tension of the Rollers is VERY important. I've written a separate article on How to Adjust Mig Welder Wire Feed Roller Tension and produced a Video (bottom of linked page), do please check these out.
Ensure you have the correct gas and gas flow rate. I've written blog articles on Mig Welding Gas and Gas Flow Rate for Mig
Place your Work Return (Earth) Clamp onto one of the pieces of metal you will be welding. Ensure the Clamp faces are clean and the metal you're clamping onto is clean, because this is an electrical connection that is part of the welding circuit, so a good, clean connection is important!
Ensure the weld area of the parts to be welded are clean and free of surface contaminants, including rust, because if you weld over contaminants, they will end up in the weld!
Angle your Torch at approximately 70⁰, pointing in the direction you are going to move. In other words, you need to Push the torch, NOT Drag it!
Initially "Tack" the metal together with a short burst of welding, a tack every 50-75mm should be sufficient in most cases.
When running the weld, move as smoothly as possible, I find either resting my torch arm on my other arm, or putting down a finger for steadying is a BIG help.
I hope you found this blog article useful, if things work out well for you, please feel free to post some pictures of your achievements on our Facebook Page
Please let me know what you thought of this article by leaving a comment. Don't worry, your email address won't be added to a database or shared and you won't receive any unsolicited email.
Cheers
Graham