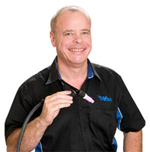 What's the right Gas Flow Rate for a Mig is a question we get asked a lot, but like many things in welding, there's no definitive answer.
The correct Gas Flow Rate for a Mig will depend on a number of factors:
The diameter of the Gas Shroud
The joint configuration
Whether there is any uncontrollable factors that may disrupt the gas shield around the weld, draught/wind being the most obvious
Having said all that, I understand you need a start point, so I've produced a simple chart showing suggested Gas Flow Rate for a Mig.
This is based on a formula of the cross sectional area of the Gas Shroud Bore divided by 13.
For Example, let's assume the Gas Shroud Bore is 10mm.
Cross Sectional Area (as I'm sure we all remember from school Maths :-), is
π x r² so:
π (3.142 is close enough) x 5 x 5 ÷ 13 = 6.042
We can round that to 6 litres per minute Gas Flow Rate for a Mig with 10mm bore Gas Shroud.
I would stress that this figure is a start point. Try a test weld, if you see tiny pin holes in the surface of your weld, you need more gas, but in still conditions, this formula should provide enough shielding without wasting gas by using more than necessary.

I hope this helps
If you would like a higher resolution copy of the chart, use the "Contact Us" link on our website to drop me a note and I will email you a copy.
You might alos find my articles on Mig Welding Gas and No Rent Gas Cylinders worth a read!
Please let me know what you thought of this article by leaving a comment. Don't worry, your email address won't be added to a database or shared and you won't receive any unsolicited email.
Cheers
Graham