Model O – a little bit of History
We've been selling the original Model O Torch for some Years now. It's always been a popular torch, especially among Roofers, who use it for Lead Welding and LOVE the feel of the torch and the precise flame adjustment that can be achieved.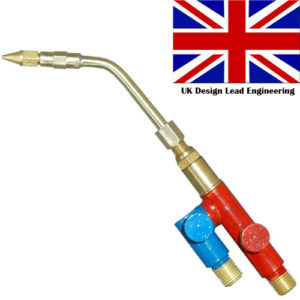 Now, after over 30 Years of the above model O, we've updated the design to incorporate some tweaks that customers have expressed a desire for.
Model O – the Next Generation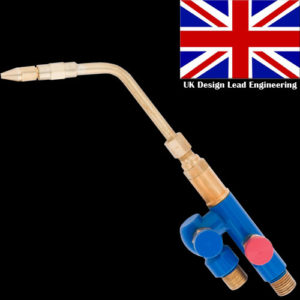 The first thing to say is we haven't changed very much! After all, if a Torch is as popular as the Model O it would be stupid to re-invent the proverbial wheel 🙂
So what have we changed?
We've now made the Oxygen Inlet from a single forged piece of Brass, rather than two pieces brazed together. This increases the strength and durability of the whole Torch, plus improves Oxygen Gas Flow.
We've tweaked the geometry of the valves to provide even better and more precise flame adjustment.
We've increased the angle of the Neck Bend as LOADS of customers, old and new, told us the angle on the old torch wasn't tight enough.
Model O Nozzles
The original Model 'O' Nozzles are designed for Oxy/Acetylene or Oxy/Hydrogen.
These original Model O Nozzles are VERY small. They're numbered 1-5 with 5 being the biggest. Having said "Biggest" it's worth noting that the number 5 is only slightly bigger than a conventional torch No1. So the term "Biggest" is somewhat subjective!
The most popular Oxy/Acetylene Nozzle is the No3, which Roofers use for Code 4 Lead Welding. Although all the nozzles sizes are popular.
No1 nozzle produces such a tiny flame I'm pretty sure you could weld a KitKat wrapper with it 🙂
Oxy Propane/Propylene Nozzles
Launched in 2020, our Pro-Jet dedicated Oxy/Propane or Propylene Nozzles.
These feature a small ring of tiny nozzles, surrounding a central main flame. The purpose of this design is to allow the greater volume of fuel gas that's necessary for liquefied gases, to flow and burn efficiently.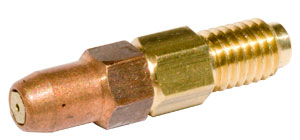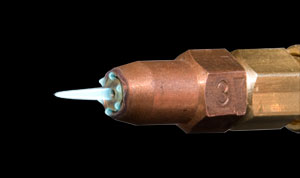 Pro-Jet Nozzles are available in numbers 1, 2 & 3. (3 being the biggest).
Customer feedback has been excellent, with Roofers telling us the No1 nozzle is ideal for Code 4 Lead.
Using the standard Oxy/Acetylene Nozzles for Oxy Propane or Propylene is ok, but the torch is difficult to light and the flame blows out REALLY easily. This is because Propane and Propylene are liquifed gases that burn a lot slower than Acetylene.
Pro-Jet Nozzles overcome these problems and are much easier to light, especially in windy conditions!
Using the Model O
The single biggest problem that customers report with using their Model O Lead Welding Torch is difficulties with flame adjustment. This usually means the flame blows out too easily when lighting, or the flame pattern changing on its own.
In 95% of cases, this is caused by too much gas pressure being set on the Regulator. When customers report problems and we ask what pressure they have set, we invariably get figures around 1.0 to 1.5 bar. The correct pressure is between 0.15 and 0.2 bar!!!! This is barely off the Zero Pin of a Regulator!
Gas Regulator Selection
The problem of setting too higher Gas Pressure derives from one of two things
The operator thinks that 1.0 – 1.5 bar is the correct pressure IT IS NOT!
The operator has a 0-10bar Oxygen Regulator. Trying to set a STABLE pressure of between 0.15 and 0.2bar on a Regulator with up to 10bar of pressure is virtually impossible!!!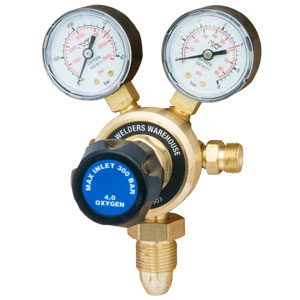 Here at The Welders Warehouse, we offer a 0-4bar Oxygen Regulator for lower pressure applications, which is actually MOST applications! A 0-4bar Oxygen Regulator is far better for setting and maintaining the stable low pressure needed for using a Model O Lead Welding Torch. A 0-4bar Oxygen Regulator is suitable for most Welding and Light Cutting Torches. A higher output Oxygen Regulator would only be necessary for Cutting Nozzles above 5/64″.
Lighting a Model 'O' Torch
There is no real difference between lighting Model 'O' Torch to lighting any other kind of Oxy Acetylene Torch. It's just more important to make sure the gas pressure on the Regulators is set correctly and only turning the Torch Valves by very small amounts at a time. The key thing to remember is that with such small nozzles, small changes can make a big difference, so changes have to be made gradually.
Conclusion
The Model O Torch is still the first choice for Lead Welders and the new Torch fine tunes all the things Lead Welders loved about the original. As long as the Oxy Acetylene Kit is set up correctly, the new Model O will provide Years of trouble free Lead Welding.
To visit our Model O page, where you will find prices and can order, Click Here.
I hope you found this blog article useful, if things work out well for you, please feel free to post some pictures of your achievements on our Facebook Page
Please let me know what you thought of this article by leaving a comment. Don't worry, your email address won't be added to a database or shared and you won't receive any unsolicited email.
Cheers
Graham