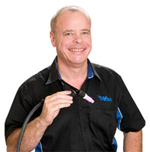 Is Propane any good?
YES! It's a great gas!
It's versatile
Can be used with or without Oxygen (with correct Torch)
It's cheap, compared to Acetylene
It's readily available
It's available without Cylinder Rental
The only real downside to Propane is that you can't weld with it.
Pretty much everything else can be done.
With the right Torch, Oxy/Propane is great for Heating, Brazing, Silver Soldering etc.
How Propane Works in practice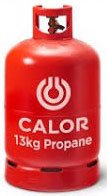 Propane is a liquified gas and is stored in a cylinder with a void above the liquid.
The Liquid turns into a vapour, which fills the void until a certain pressure is reached, this pressure will depend on ambient temperature. The colder the cylinder/liquid is, the lower the vapour pressure will be.
It is the vapour that is drawn off and travels through the Regulator, Flash Arrestor, Hose and Torch, until it meets air. When the vapour meets air it turns into a gas, which then burns.
As vapour is drawn from the cylinder, more liquid turns into vapour, until the cylinder is empty.
Propane Problems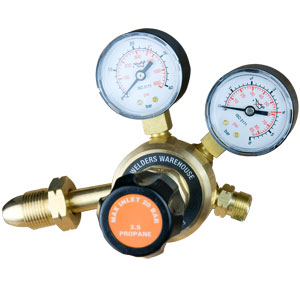 I've only ever really spoken to customers about 2 possible problems with Propane.
In cold conditions, for example, the cylinder is stored in an unheated area during Winter. The temperature of the liquid can drop so low that the Torch/Flame draws vapour off faster than the liquid in the cylinder can become more vapour. This means the flame starts to get smaller and ultimately, goes out, giving the impression that either the cylinder has run out, or the Regulator is faulty, when in fact, neither is the case. The only real solution to this problem is to ensure the cylinder is at room temperature when in use.
If used with an Oxy/Acetylene Torch, Oxy/Propane tends to spit and fart quite a bit and the flame can easily blow out, especially when lighting. A Torch designed for
Oxy/Propane will perform FAR better and be much easier to use. Apologies for the shameless plug of our Multi-Jet LD and Multi-Jet HD Oxy/Propane Guns, but they are very, very good! Please watch the video demonstration via the "Video" tab on the pages (same video on both pages).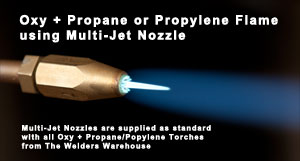 I hope you found this blog article useful, if things work out well for you, please feel free to post some pictures of your achievements on our Facebook Page
Please let me know what you thought of this article by leaving a comment. Don't worry, your email address won't be added to a database or shared and you won't receive any unsolicited email.
Cheers
Graham